I thought I make a point and devote a separate page to this topic. Raw image (let alone raw video) files are huge and writing them to your card can take a while. Most close wildlife encounters are short and the last thing you want is having to wait for your camera's buffer to clear. When you shoot hundreds of photos, you also want previews to load quickly so you can easily identify your good shots. Getting a fast and reliable memory card is paramount for every wildlife photographer, which will save you a lot of frustration and time!!! Unfortunately, storage card manufacturers are a bit creative when it comes to speed specifications. The differences between good and cheap cards are really substantial and not just esoteric. Do yourself a favor and don't save at the wrong end.
Secure Digital (SD)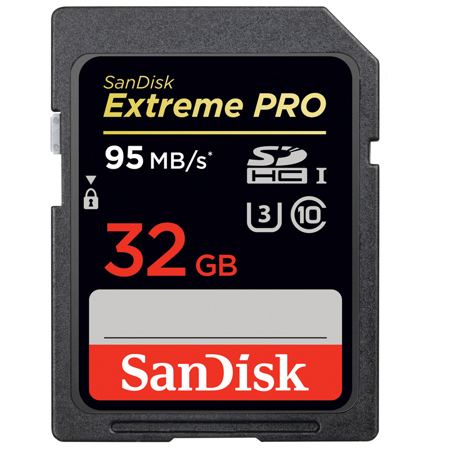 SanDisk 32GB Class 10 ExtremePRO SDHC Memory Card, 95MB Read Speed
. Most cameras take SD cards. Ignore the Class 10 ratings as they are basically meaningless. The 32GB SanDisk ExtremePro UHS is an SDHC card with a nominal writing speed of 95 MB/s.
Compact Flash (CF)

If your camera has a CF slot, go for the 32GB Lexar Professional 1000x card. Make sure that you go for UDMA7, which is a much faster standard than UDMA6. For Nikon D800 users, this card is a must!

With the Canon 5d mark iii (5D3) and magic lantern you can record raw videos straight onto your memory card. In that case, you would want more capacity and should get the 64GB card.